Features:

A Village Walk
This is one of a series of 'walks' - around the "Main Street" in Rothiemay - spanning time - from approximately 1840 to the turn of the 20thcentury in 1901. Over the course of these walks the visitor will gain a peek into the lives of some of the people who have made Rothiemay their home, sometimes for many decades and sometimes just briefly – before they went on to create a new home and a new life in other Scottish counties and in other countries across the world. Houses then were not numbered or carried house names and, apart from the farm names such as Hacklaw or Lossat, or names such as the Mill or Inn, were just noted as one set of people after another.
Beginning the first walk in 1841 on Sunday 6th June that year we will follow the Census enumerator as he walks, in what seems to be a rather zigzag path, from the Lossat (named Losset then and a word of Gaelic derivation), down past Hacklaw (then called Hauclaw), on down the main street and up to the River Deveron, where the water mill is to grind corn again in the morning; and a little way along the river bank where a young man, back on summer break from university in London, is acting as boatman for the people of the area. The enumerator passes down some small pathways to get to some homes set back from the main road.
As we follow the enumerator's route – and approximately the one followed in the next decade – 1851 on Sunday 30th March this time, we can see that the routes were not identical and wandered a little about the main street. Bear in mind that the Government's instructions to enumerators was, for this Census, to round down people's ages to the nearest 5 or 10. Sometimes the enumerator obeyed this instruction, sometimes he rounded up! Thus someone who was, say 27 years old, could be either put down as age 25 or age 30. By 1851 the instructions had changed – please put down exact ages – as far as people know them. Of course, this was before Statutory birth, marriage and death registration had been introduced – along with the appropriate registration certificates. So, more often than not, people in the UK did not always have a precise idea of their age or, indeed, their date of birth. Often they would give their date of baptism as their birth date. If that had occurred on the day of their birth, as sometimes happened, then the birth date was correct; if not it may be up to, averagely, two weeks past the birth date. Equally, in the 1841 Census, the requirement was to say whether the person was born in the county they were living in, or outside it. Enumerators varied in how they noted this. Sometimes they simply wrote 'Y' or 'N' in the in county column; sometimes more data was added.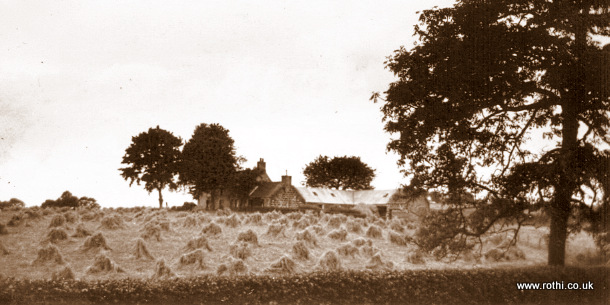 In 1841 the first place called upon was the Lossat. Two families lived here. The first is the Cruickshanks, William Cruickshank, born in Forgue, just over the parish boundary in Aberdeenshire in about 1776 and his wife, Margaret (nee Spence) and daughter Jane, age 35 years, both of whom were born in Forgue too. With them is William Reid, age 5 years. William is Jane's son, his father being John Reid of Drumblade, Aberdeenshire. Jane and William live in Ordiquhill and are visiting her parents on Census day. Jane says she is Jane Cruickshank, possibly faced with "officialdom" she forgets to give her married name. Jane's husband is a farm bailiff. William and Margaret's other children - James (born in 1798), George (born in 1804) and Helen (born in 1820) have all left home. James has married Ann Allen of Forgue and they will move to nearby Grange shortly. The couple are still in the same house in 1851, but sadly by 1856 Margaret has died in Rothiemay and William Cruickshank is a widower.

Here also lived Alexander Mackie, born about 1776 in Banffshire. Acreage of farm is not shown in 1841. Mr Mackie is married to Elisabeth, who says she is born 1786 in Rothiemay. Living and working at home with the couple are a young lady, who, at first glance, appears to be their eldest child but, as can be seen later, is not. This is Elisabeth 25 years old, shown as born in Banffshire, then comes Mr and Mrs Mackie's son James 22, again shown as born in Banffshire, twins James and Isabella (born 1819 in Banffshire), son George born 1826 in Banffshire, youngest daughter Jane (born 1831 in Banffshire) and two grand daughters - both named Jane - one, the daughter of a male Mackie, so there is a young man older than Elizabeth, and the other the daughter of a Mackie daughter who married a Mr Johnstone; this Jane seems (from the 1851 Census) to have been born in the town of Banff itself.

The family have a James Cran living with them, helping on the farm. He states he's born in Scotland - so not a local person. Farming was undergoing a new revolution in terms of more land being drained and put under the plough, 'improvement' of land was now paramount and its ability to yield much bigger crops was vital as the population grew, moorland was being ploughed up and turned for either pasture land or for arable use (turnips and kale were a profitable crop now) and crop rotation was being practised to ensure land didn't repeatedly grow the same crop and so become exhausted. Farm workers, sometimes shown as 'ag lab' and sometimes as farm servant, were usually engaged at the feeing markets held in May and November, when a servant was 'fee'd' for service. At harvest time other labour was 'bought in', mainly workers from Ireland who came to help in the harvest.

In the summer of 1841, 57,651 Irish, mainly male, labourers crossed to England and Scotland to work on the harvest. Oats and bere (an old variety of barley) were cereal crops, beef rearing was important and, of course, keeping, maintaining and feeding horses was vital as, without them, the land couldn't be worked. Weather conditions in the previous 5 years had been particularly trying with severe snows and frosts lasting well into Spring, and this was compounded by frosts in August in 1838 - resulting in lost crops and much financial hardship for all in the agricultural community. In May 1839 there were heavy snowfalls, resulting in loss of life; followed by a very wet summer and autumn. The Mackie family had faced quite a few challenges on their farm. Worse was to come.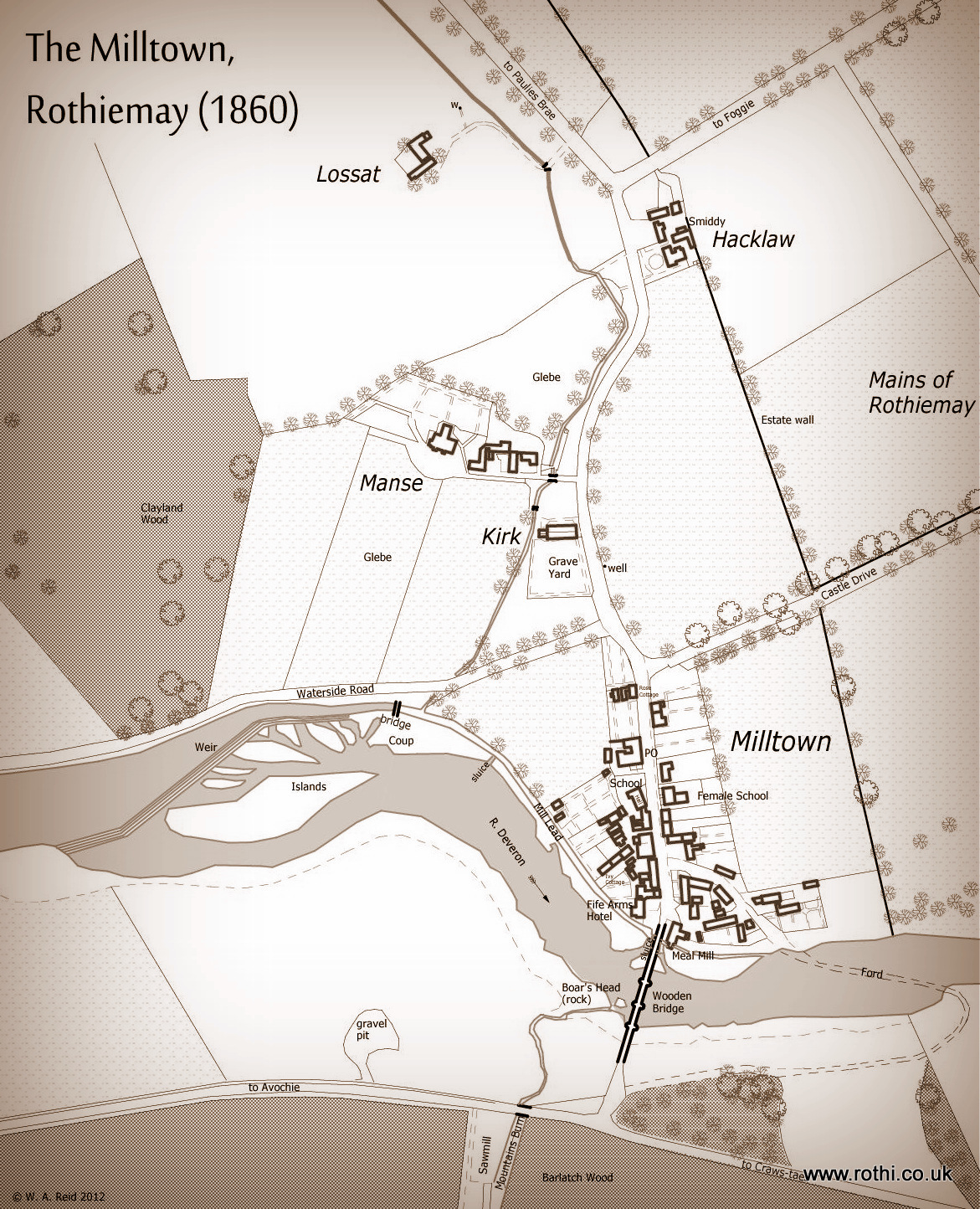 By 1851 Census, Elisabeth was a widow, her husband Alexander having died within the last decade. She is shown as a farmer of 17 acres, employer of 2 agricultural labourers, one of whom is John Cowie who was born in the nearby parish of Grange. Her daughter Elisabeth has left home and it is Isabella, now age 30, who is at home with her mother working in the home and on the farm. Grand daughter Jane Johnstone is with them and she is "employed in the home"; while 2 grandchildren - Elisabeth and William Walker - are at the house on Census day. All persons now state they are born in Rothiemay.


Small rumblings of 'radicalism' were beginning with the subject of landlords, land holdings and ownership being on the agenda. Even in this part of Scotland the 'Clearances' of the North-West Highland glens were beginning to have an effect on small farmers such as the Mackie family. While 'Clearance' was not the method used, as it was in the West Highlands and Islands, the landlords in the north-east, still wanted more from their tenant farmers and more from their land and could be strict in not just what they wanted but in how they wanted it. And often they laid down what their tenant farmers could, and could not do. Sub-division of land proved to be an "economic" necessity for north-east landowners, while on the west of the Caledonian Canal eviction was viewed as an "economic necessity". The weather in the last decade had not helped farmers. Terrible gales in Scotland in 1850, which had exposed Skara Brae on the Orkney Isles, made life hard. Crops and beasts were subjected to the lashing winds and pounding rainstorms; and more winds (the Crystal Palace was damaged during work for The Great Exhibition in 1851), and heavy snowfalls over the winter 1850-51, with what we'd now call blizzard conditions, made life exceptionally hard for those at the Lossat.
Now we cross the road and thus to Hacklaw - another Rothiemay farm. Within it lies the Smiddy, or Blacksmith's workshop. In 1841, at Hacklaw, we can see two ladies, both of independent means.
Sophia Scott
, age 74 and her slightly younger sister,
Mary
. Both ladies were born in Rothiemay. By 1851 they have decided they need care and support and so their cousin,
Mary Ann Alexander
, has moved in to be with them.
Along from these ladies is the Paul household.
Lewis Paul
is the blacksmith and he is still working at his craft at age 60. Lewis, his wife Jane (nee Geddes) and their son, also named Lewis, live in the house next to the forge, with 3 year old Joseph Nicol, who is their daughter Isabella's child from her marriage to Joseph Nicol of Skene, Aberdeenshire. In time Isabella has a daughter, Isabella, who will marry a William Forbes, and the couple will emigrate to New Zealand.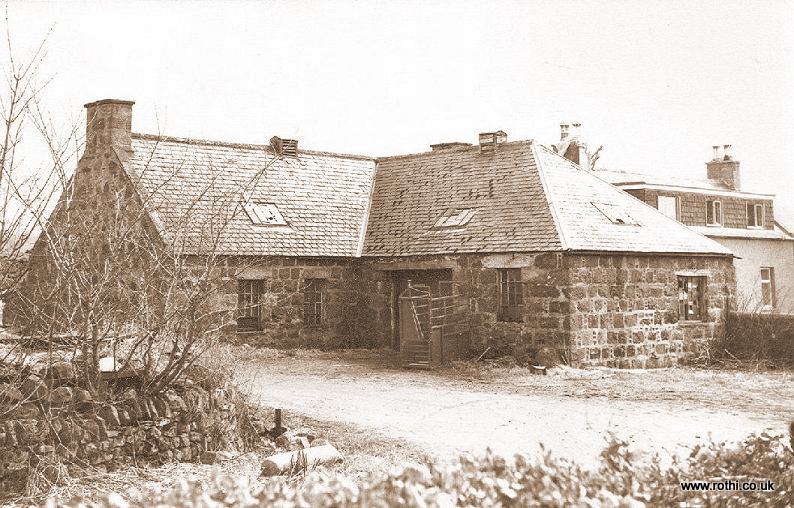 In the meantime time passes and the elder Lewis dies, leaving Jane his wife and his son. 'Young' Lewis not only takes over his father's business, but employs three men to help him: Robert Lop, Samuel Kent and Daniel Munro. His wife (another Jane), is busy too with little Jane, James and 10-month old Margaret. Young Mrs Paul is from the parish of Grange and she has her mother-in-law to help plus young Jane Henderson from Boharm, who lives-in. Lewis, as we shall see in due course, is to be not only a successful businessman, but an influential man in the parish and also the Rothiemay Registrar of births, marriages and deaths.
Elsewhere in Hacklaw lives
James Brander,
who is an apprentice blacksmith. James is living in a bothy (sometimes called a chaumer) over one of the stables. James is from Rothiemay and is doing well at his work, since in 1851 he has married, has five children and lives in Keith working for himself as a blacksmith.
In another outhouse live
Charles Lammont
of Rothiemay and his wife Mitchel (nee Wildgoose). Mrs Lammont is from Old Machar, Aberdeenshire. Charles was the land steward for Lewis Paul, supervising work on his farmland. The couple have William, age 9; Mary who is 7; Charles age 5 and little James age 3. The couple will have another child in 1843 - Alexander, but Mitchel will be widowed in 1848. We shall follow her story later as she continues to live in the village until her death on 6th July 1882.
Lastly, in another outhouse live
Alexander McPhie, James Gordon, Alexander Whitecross and Alexander McPherson
. James and Alexander McPherson are from Banffshire, the other two men come from outside the County. Mr Gordon is a gardener's apprentice, Mr McPhie and Mr McPherson are farm workers; and Mr Whitecross is a rat catcher. Not only would he have worked around the Smiddy, he would have had plenty of work on the farms in stackyards and corn stores, and also down at the Mill and riverbank.
The next house on the enumerator's 1841 list was the Church of Scotland Manse. Here lived bachelor the
Reverend Harry Leith
with, in 1841, his housekeeper Helen Sutherland, born in Gartly. She had help from Jane Milne, while Horace Clark was the manservant who saw to the vegetable garden, the horse and trap and did general outside work around the Manse and probably the church. A Mr George Lawson also lived at the Manse and was a "Preacher of the Gospel".
Rev Leith (sometimes referred to as Reverend Harry Leith of Balcairn) was born in Keith in 1798, son of James Leith and Christian Glass. He attended King's College, University of Aberdeen and graduated with an MA in 1817. Ordained in 1822 by the Presbytery of Aberdeen as Minister, he and Reverend Joseph Johnston, went out to Canada - living in Cornwall, Stormont, Ontario from 1822-1827. The two men held services at the "Scotch Church" (Presbyterian), ministered to their parishioners and were Masters of the District School there. On his return to Scotland in 1827 he was admitted as Minister of Rothiemay in August of that year. In 1843, at "The Disruption" Mr Leith remained in the Established Church, one of only two local Ministers to do so. However, his views on people's ability to make their own choices according to conscience earned him some criticism from the Presbytery and a fine!
In the following Census of 1851, Mrs Sutherland was still the housekeeper, but the staff had changed. Mary Begg now helped Mrs Sutherland, with additional help from Ann Bruce; and John Lause who worked on the Glebe lands of the Manse. And staying with the Minister were his nephew David Hay and Jessie Smith who was a niece. Sadly Reverend Leith died 6 years later on 20th August 1857 in Cabrach. His epitaph, in Rothiemay Churchyard reads: "memory of Rev. Harry Leith of Balcairn, for 30 years the minister of the Parish of Rothiemay He was pious, amiable and unostentatiously beneficent, the friend of the poor and the afflicted, and the gentle monitor and guide of the wayward. Born 17 Oct. 1798 - died 20 Aug. 1857". More details on both Mr Leith and "The Disruption", as it affected Rothiemay, appear elsewhere on this site.